All Hungarian Toll Roads in 2023
If you want to drive on the Hungarian motorways or expressways, you must first purchase a valid e-vignette. This is because there are many roads where, for the use of a motorway, a toll must be paid.
These stretch throughout the country and are often an integral part of the route many motorists take through Hungary. Without these roads, it is difficult to get to your desired destination quickly. To be well prepared, you should familiarise yourself with the toll roads ahead of time.
If you notice that your route to Hungary also starts with the entrance to a toll road, you should buy an e-vignette online. That way, you can pay the tolls in advance.

Toll roads in Hungary - map with all routes
All vehicles must pay a fee to use the country's toll roads. This applies to trucks, as well as cars and motorhomes. For vehicles weighing more than 3.5 tons, the truck toll applies.
For the use of the motorway by car, you generally need a motorway vignette (with a few exceptions, e.g., M31 and M8 motorway). The same applies to most expressways. Checks are carried out based on your license plate number and with the help of cameras.

Which motorists need e-vignettes in Hungary?
Many motorists travelling through Hungary ask themselves: Do I need a vignette for Hungary? The answer depends on how and where you travel in the country. Travellers from abroad, however, will almost always need an e-matrica if they want to save several hours of driving time.
The motorway map of Hungary not only makes navigation easier but also allows you to find out ahead of time if you need to buy a vignette for Hungary online.
The cost of the Hungarian motorway toll depends on the category of your vehicle and the validity period of the vignette. Before buying, check all the data entered for possible errors so that there are no misunderstandings.


National motorways in Hungary with motorway tolls
The dense motorway network on a map of Hungary shows you how well-developed it is. The country continues to focus on further expansion because these national motorways form the heart of the local road system.
They not only connect Hungary's different regions but can also lead you quickly to one of the many surrounding countries.

Tolls on motorways
In principle, the Hungarian motorway toll applies to all routes. There are a few exceptions, such as the M31 or M8 motorways and some intermediate sections.
In practice, however, these are hardly worthwhile for travellers, as they usually also connect to toll sections. For example, the toll-free M8 connects with the M6, which requires a vignette.
An e-vignette is therefore required in any case for speedy passage. The speed limit for passenger cars on the motorway is 130 km/h.

All Hungarian Toll Roads In 2023
Regional toll roads
National toll roads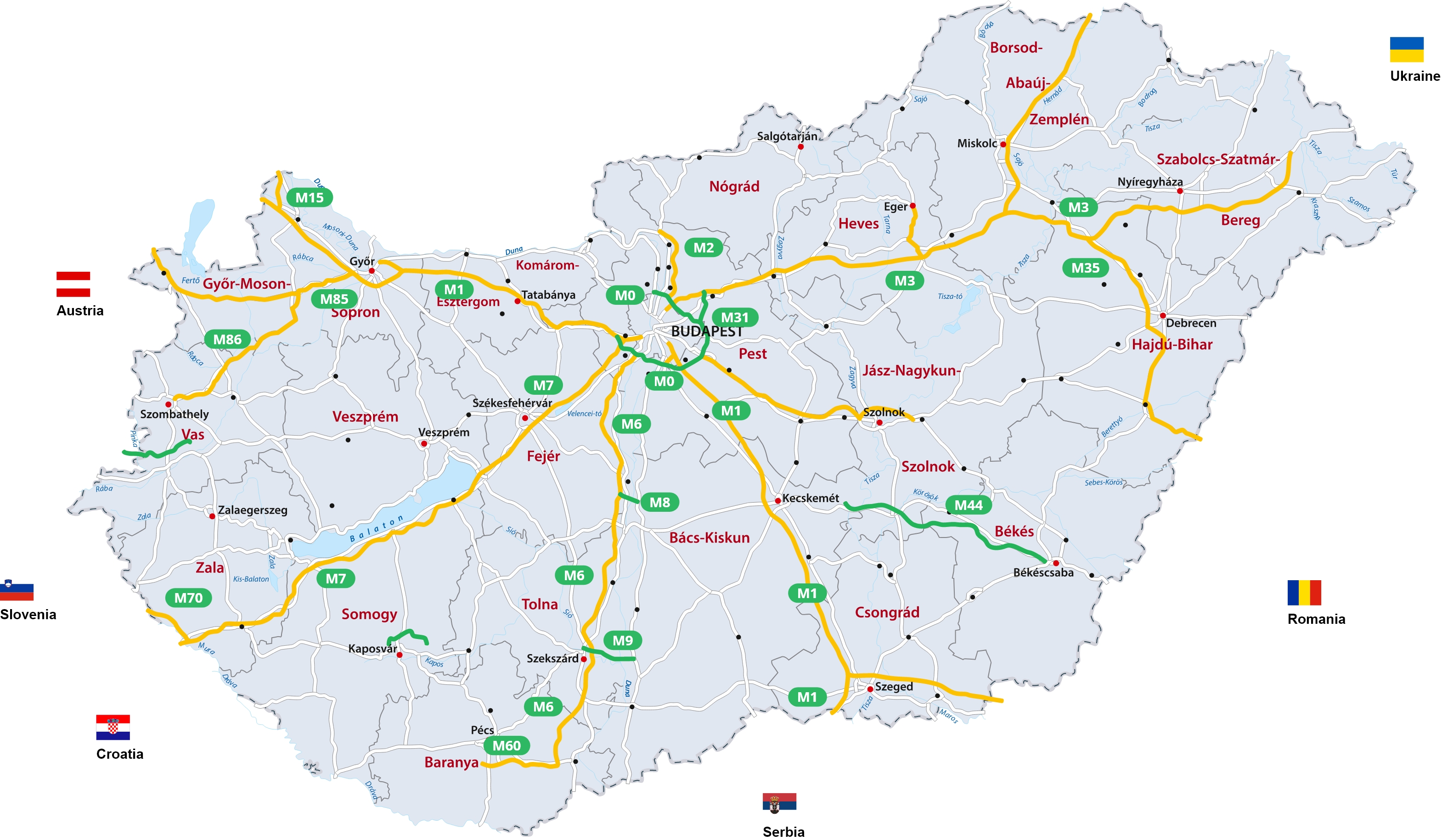 Tolls in Hungary: regional roads require a vignette

There are many regional expressways that require a car toll, which is why a map of the toll roads in Hungary can be so helpful. The expressways are mostly used to connect to the motorway, and cars are allowed to travel at speeds of up to 110 km/h.

The most famous expressway is probably the M0, which forms the ring motorway around the capital city of Budapest. It connects almost the entire motorway network in Hungary.
Roads without vignette requirements
Many sections of the M0 expressway are toll-free. The subsequent slip road onto the motorway, on the other hand, is almost always subject to tolls. However, if you don't always need the fastest route, you can also reach your destination completely toll-free on some stretches.
Map: all toll roads in Hungary that require a vignette
If you want to travel quickly, then you will have to rely on the motorways and expressways, which means paying tolls. Thanks to our map, you can see which roads require a vignette. This makes your travel planning much easier and helps to avoid problems on the road.